If you are looking to make a one-off payment into your account, you can do this either via Pay by Bank or by making an online card payment. Learn more about the options available.
Our recommended option is pay by bank, which uses secure and reliable Open Banking technology to arrange an instant money transfer directly between your bank and us.
---
1. Accessing the Pay by Bank Page
Go to our website www.creditunion.co.uk on your laptop or your phone, and scroll to the bottom, where you can see a button marked One-off Payment.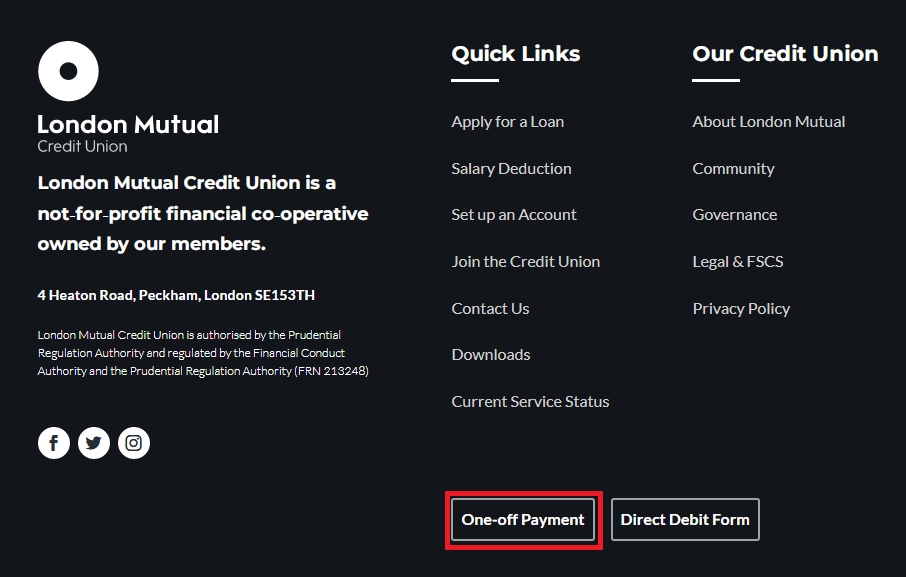 ---
2. Getting Started
Click on 'One-off Payment'. You will be directed to another page where we inform you that this option is for a one-off card payment.
If you would like to set up a regular payment to go out every month, then these instructions aren't for you. Follow these instructions for setting up a direct debit instead.
Click on the green button 'Pay into My Account' to begin.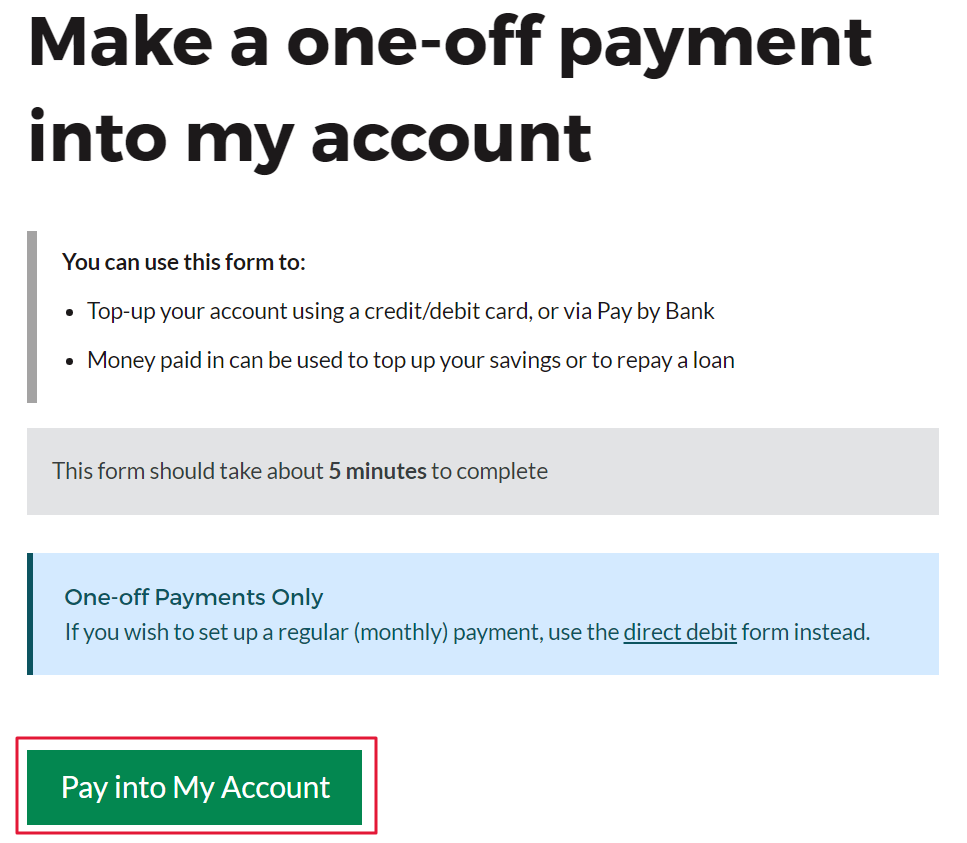 ---
3. Payment Options
On the next page, you'll need to let's know how much you'd like to pay into your account and your chosen payment method.
The following instructions are for pay by bank. Follow these instructions instead if you prefer to pay using a debit card.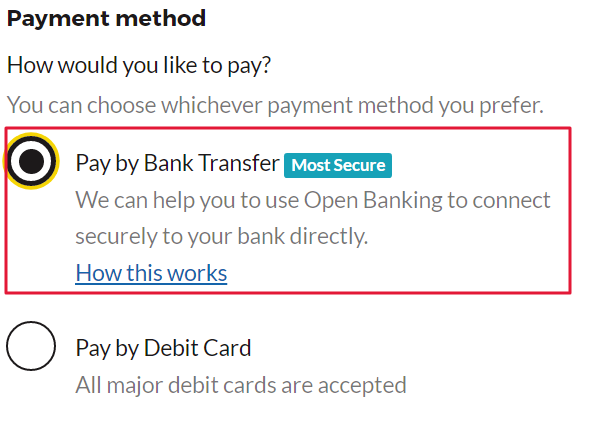 Next, you will be asked for your Membership Number and the account you would like to pay the funds into. Where Can I Find my Membership Number?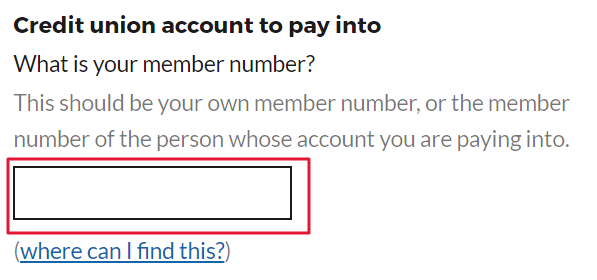 Finally, you'll need to let us know what the payment is for. This allows us to ensure that the money paid reaches the correct account.
If your payment covers a missed loan repayment or payment to clear a loan, let our Credit Control Team know by emailing creditcontrol@creditunion.co.uk.

Press 'Save & continue'.
---
4. Providing Some Information About Yourself
The next page will ask you for your first, middle, and last names.

5. Confirming Everything is Correct
Once you click on 'Save & continue'. Finally, the confirmation page will come up, where you need to double-check all the information and tick a consent box before you click on 'Continue to Payment.'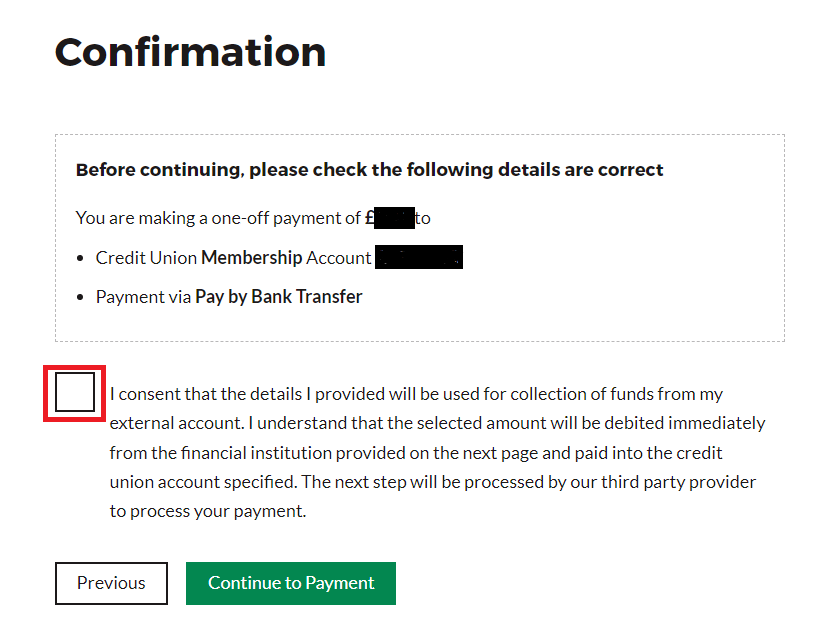 ---
6. Selecting Your Bank From the List
The next page will ask you to choose which bank you would like to pay from. Based on the option you choose, you'll be directed to your bank's online banking login page, where you can log in and approve the payment.
If you are on a computer and you usually use a mobile banking app, you can scan the QR code to finish the card payment from your mobile.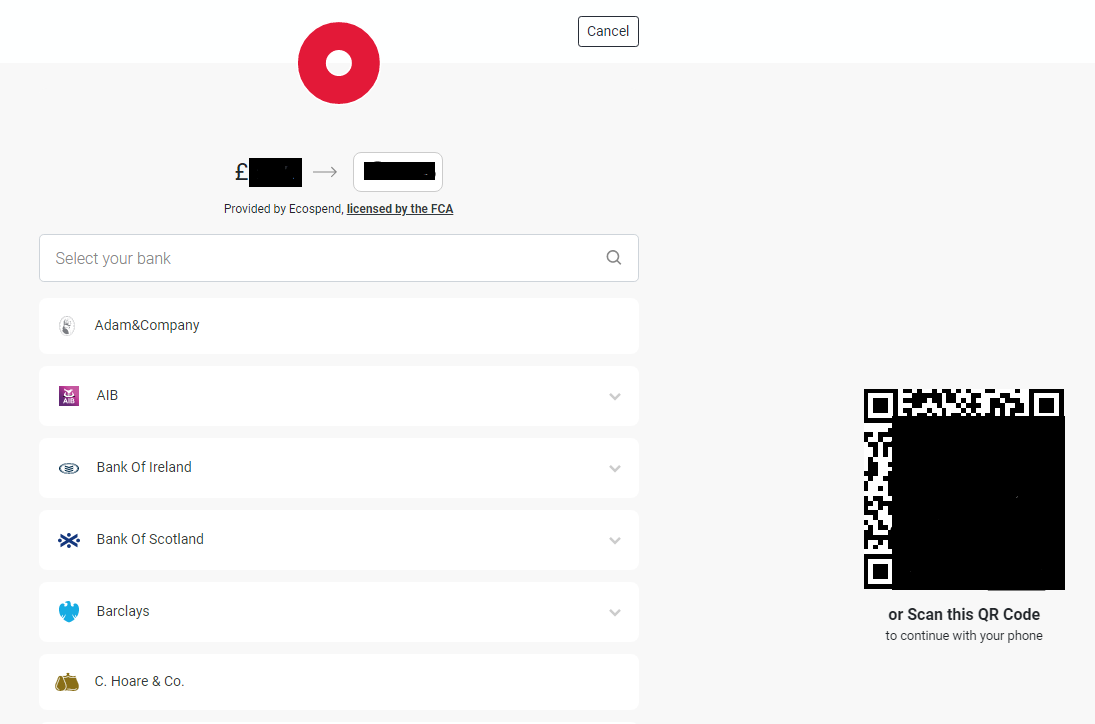 After selecting your bank, you'll be directed to your own bank's online banking page or app. Here, it will usually ask you to approve the payment by confirming your PIN or using your fingerprint or face. Follow the steps provided to complete the payment.
These vary from bank to bank, so if you have any problems, you'll need to contact them, rather than us.
---
7. Completing the Payment
After you complete all the necessary steps in your online or mobile banking app, you will be directed back to our 'Payment complete' page. This message confirms that the payment went through successfully.
We will usually credit the payment to your chosen credit union account within a few minutes, but sometimes it can take up to one working day.