Before you can use either the Mobile or Web App for the first time, you need to register. This process will verify that you are a member of the Credit Union, and let you to choose a password to log in.
1. Before you Begin
Check that your Membership is active. If you've only just joined, it will take up to 10 days to get everything set up before you can register. We'll let you know when, so thank you for being patient!
Ensure the mobile phone number on your account is up-to-date. We will send you an SMS (text) message as part of the process, so you will need to have access to your phone and be able to receive messages on it.
Make sure you have your membership number handy. You'll find this in the welcome letter you received when you joined. Lost your member number?
You'll also need your National Insurance number, which we will use to help verify your identity. You can find this on your salary or wage slip, as well as on any letters you have received from DWP or HMRC.
---
2. Getting Started
The registration steps are the same on both the mobile app and online banking. Once you're set up up, you can use the same details to log into both.
At the top of the login screen, click the link 'Set up your login details here' to begin: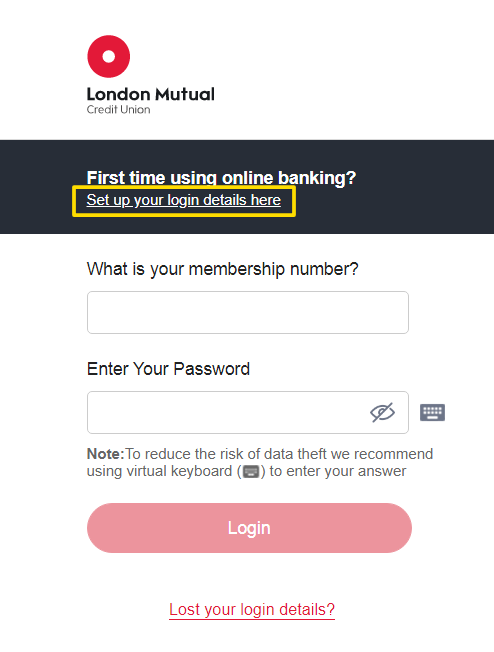 ---
3. Entering Your Details
On the next screen, you'll be asked to provide:
Your Membership Number
Your National Insurance number
Your Date of Birth
Once you have entered this information, click the 'Validate' button to move on to the next step.
---
4. SMS Security Check
The next step is to send a six-digit code to your mobile to check your identity. We will ask you to confirm this code later.
Before we send you the code, we need you to check that the mobile phone number we have on record for you is correct.
If the mobile phone number displayed is yours, click 'Confirm' to go on to the next step.
If you no longer have access to the phone number displayed, or don't recognise it, you will need to contact us so that we can update the mobile number on our records. You need to do this before you can continue.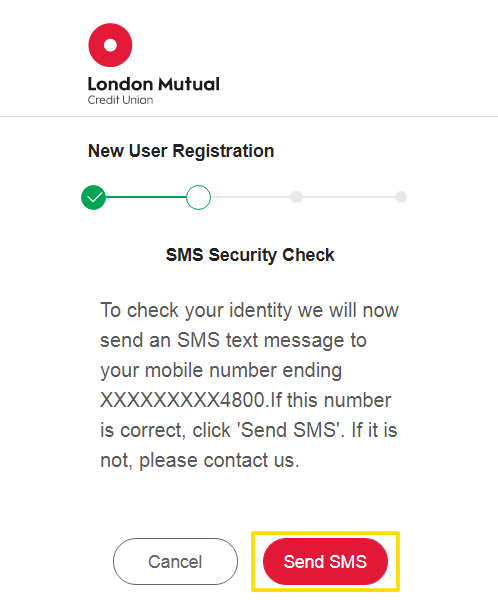 Depending on the phone coverage where you are, it can take up to five minutes for the text message to arrive, so please be patient. When it does arrive, it will look like this: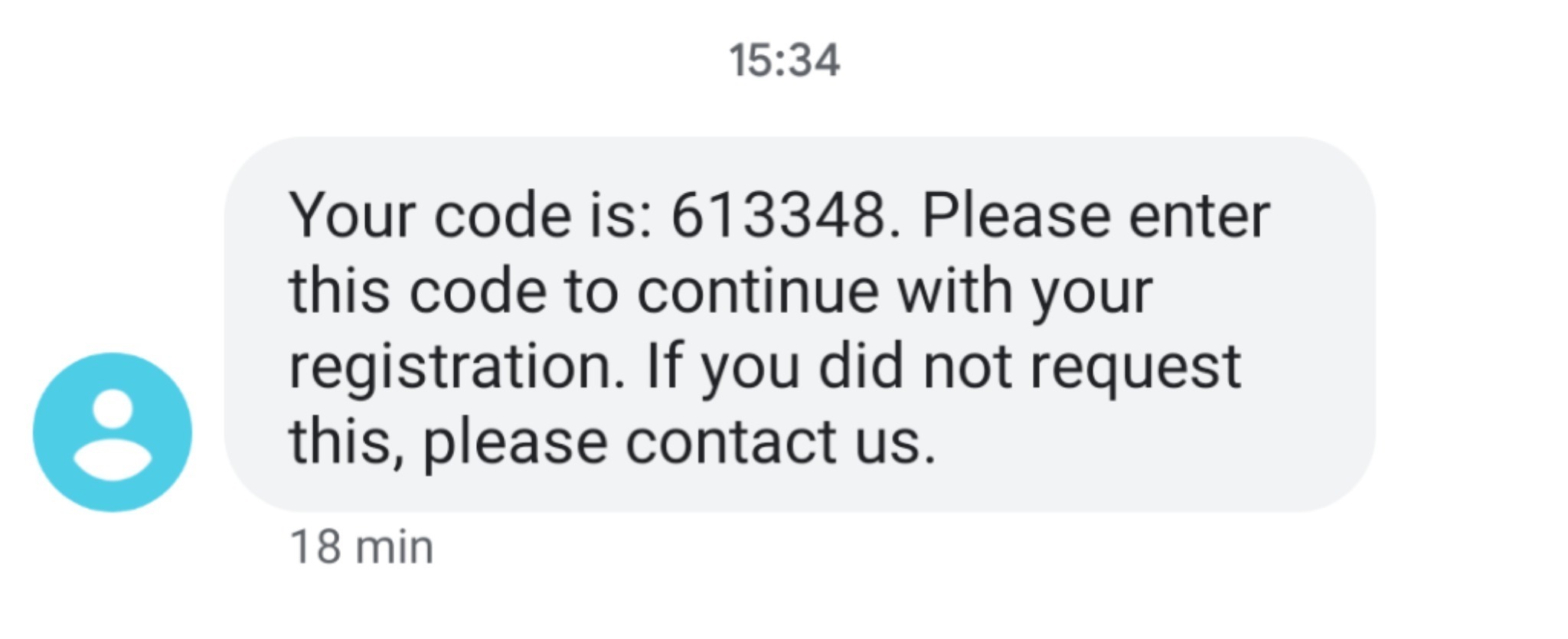 If you didn't receive the text message, check that the mobile phone you are using is the same as the phone number registered to your account. If it is, and the text message is still not coming through, let us know.
When asked to do so, enter the code from the text message into the box provided, and click 'Confirm'.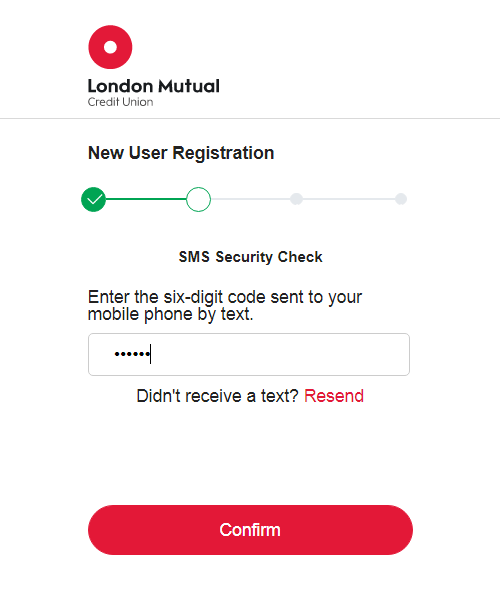 ---
5. Setting Your Password and Security Question
Almost there! The next step is to choose a password and a security question. You will use these details each time you log into the mobile or web apps. You will need to enter and then re-enter:
Password
The password can be anything you like, but it should be hard for anyone else to guess. The password also needs to meet the minimum security requirements by including a capital letter, a number, and a symbol.
Security Question
Your security question provides an extra layer of security. Start by choosing a question from the list. Then, provide the answer. This is case-sensitive. Again, it's better if the answer to your security question is something about you that is only known by a small number of people.
When you are ready to continue, click 'Proceed'.
On the next screen, we will show you a confirmation of the Security Question and answer that you have chosen. Remember that the answer to your Security Question is case sensitive, so make sure you remember if you used capital letters or not!
If this looks ok, click 'Confirm' to continue.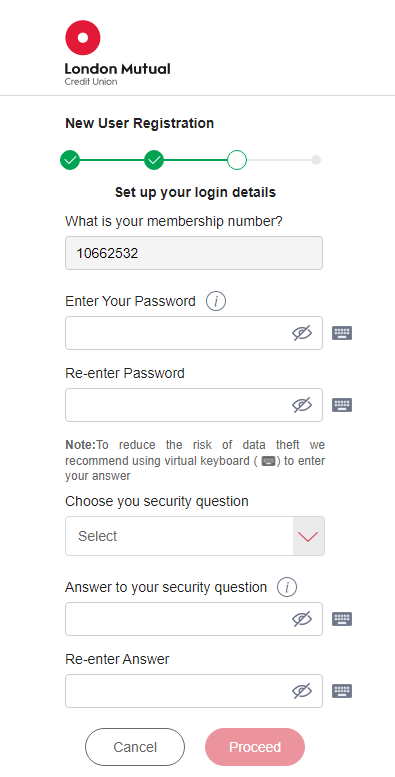 ---
6. Agreeing to the Terms & Conditions and Privacy Policy
Final thing. To use our Digital Apps, we need you to agree to the Terms & Conditions and Privacy Policy. These set out the level of service you can expect from us, as well as the things we both need to do to keep your account safe.
Please take a few minutes to read them to make sure you understand and are happy with everything. If you are, click tick the boxes.
Then, click 'Proceed'.
---
7. Finishing Up
For just a few seconds, you may see a message to confirm that your registration has been completed successfully. You will then be returned to the start screen, where you can use the details you have just created.
You're all set.
Enter your member number and the password you just chose, then click 'Login'. On the next screen, you will be asked to provide the answer to your Security Question, and that's it. You're logged in.